How cufflinks shirt with suits
Cufflinks are small, but the style is ever-changing, in addition to the traditional round and square, as well as water droplets, thread, Chinese knot and other shapes, patterns are totem, national flag, Tai Chi, steering wheel, fruit, cartoon, zodiac, constellation and other , Style is elegant, playful, unruly, etc., so with cufflinks great knowledge:
1, according to the color of shirts and dresses with cufflinks;
2, selection and belt buckle, tie clip the same color cufflinks;
3, Cufflinks are selected according to the style of attending the banquet.
In general, the golden cufflinks with a white shirt, black dress is noble, silver with pink, blue or black shirt looks elegant professional, black cufflinks is a wild single product, it is more fashionable dress.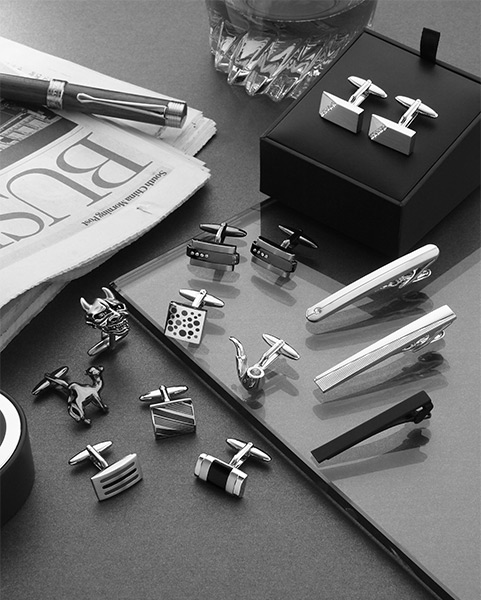 How cufflinks shirt with suits
The first floor: watch. Wrist watches form more than shirts and suits, men in the workplace reflects the characteristics, but also increased the wrist space for activity. The size of the watch must be suitable for the thickness of your wrist, and the dial thickness should not be too large, it will cause the shirt sleeves squeeze.
The second floor: shirt sleeves. Shirt sleeves and cufflinks inseparable, men need to choose their own exquisite cufflinks, rather than just relying on the original shirt sewn plastic buckle. Cufflinks cufflinks to the shirt on both sides of the stretch, to give enough access to watch the space, but also played a role in shaping the entire cufflinks.
The third floor: suit sleeves. Suit sleeves have a basic standard, must not be overshadowed shirts sleeves, to give shirts set aside 2 ~ 75px length, so the level will be very clear, but also to ensure that watches, cufflinks and other jewelry have the opportunity to meet the details.
A basic point to note is that suits and shirts in the color and pattern with the degree. The two complement each other for the best, that is, if the suit is dark, the shirt should be light-colored; suit if checked, shirts should be solid color or light thin stripes.
JT Corporation LTD. was established in 2004 in HK, which is a leading supplier concentrating on high-end fashion accessories & apparel accessories manufacture, sales and trading. Our major business is men's accessories including cufflinks, tie clips, studs, necklaces, bracelets, lapel pins, collar stays and buckles etc, which are made of brass, stainless steel and silver.mailbox:sales@jtcorporation.com